Kurt Brynildson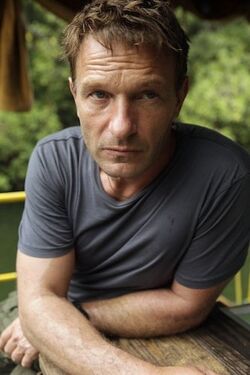 Also known as
Captain Kurt Brynildson
Family members
Hanna (Deceased)

Captain Kurt Brynildson is the hired gun for the rescue mission, brought on board to protect the crew from the jungle threats. The no-nonsense German is a man of mystery, speaking little and not revealing much about his background, but his cold demeanor aside, he seems dedicated to the task at hand and is genuinely concerned about the welfare of his people. But he does seem to have an ulterior motive to the mission, as he's seen to be saying "If Emmet Cole's alive, and if he found the Source, I'll put him down."
Brynild is a Norwegian form of the German Brünhild which means "battle armour". This is fitting of Kurt since he is the protector of the crew.
Unanswered Questions
Edit
Ad blocker interference detected!
Wikia is a free-to-use site that makes money from advertising. We have a modified experience for viewers using ad blockers

Wikia is not accessible if you've made further modifications. Remove the custom ad blocker rule(s) and the page will load as expected.