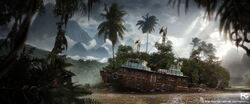 This article pertains to the boat the show takes place on. If you are searching for the article about the Season 1 Episode, you can find that here: Magus.
The Magus is the ship that Emmet Cole and his team used on their many adventures across the world, specifcally in the Amazon basin. The ship was found by Tess and Lincoln after searching for Emmet's beacon. It was found tangled in the weeds, decrepit, and abandoned.
With the help of Emilio and his daughter, Jahel, the Magus was repaired, allowing the crew to use it in their search for Emmet.
Current Members
Edit
Past Members
Edit
"Magus" is a latin word meaning "magician".
Unanswered Questions
Edit
Ad blocker interference detected!
Wikia is a free-to-use site that makes money from advertising. We have a modified experience for viewers using ad blockers

Wikia is not accessible if you've made further modifications. Remove the custom ad blocker rule(s) and the page will load as expected.